@
KolCB
Is North Point Day School (Dum Dum) affilieated to CBSE?  I do not see the name in CBSE website.Do you know any parent whos kid is going there by any chance. I took the appointment on 21st Aug there. And you are right SMAJ school is not the list of affilleated schools.
Do anyone heard Dr. Devang J. Sutarwala at Kalighat? senior homeopathic doctor for adhd/asd. My therapist told to consult for hyperactivity and referring many of her patients have been benefited.
I have seen my kid regress after every flu/fever. Is this because of antibiotics or paracetamol?
@ Sanchita20 Pls mention the therapist name who has refered the same
Has anyone experienced medication for increasing concentration? Am a little wary about it as it may slow him down altogether?

A good writing aid  available at snapdeal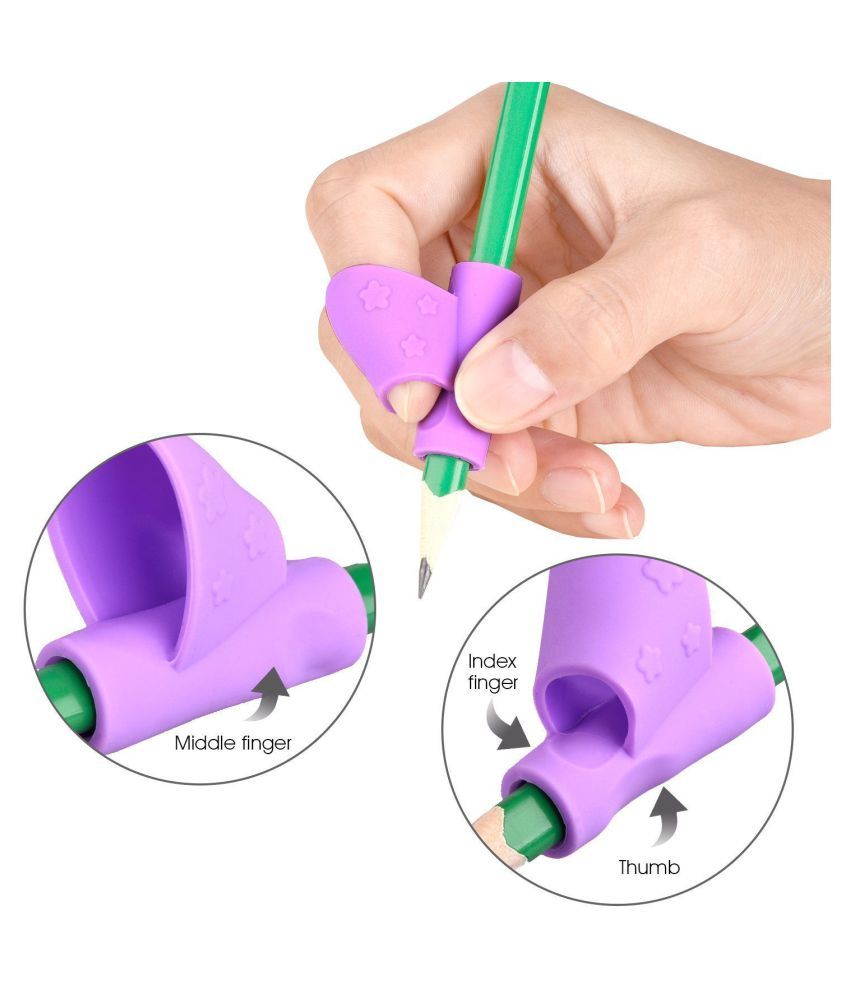 @Shourja. Did you found any special Educator in Damdam area. If so kindly refer me. I stay at Newtown. Near CC2
Hello Everybody, I am new to this group. After seeing all posts it really helped me to get so many information. Can you please help me about below query. But before that I would like to state some information about my son. My son was diagnosed with mild autism with Cars-2 score 29.5 . My son is doing speech therapy under " Mr. Mainak Santra". He has just completed 5 yrs & can speak all his need based sentences wity meaningful 5-6 sentences .He can write capital letter, cursive small ,small words, pre math concepts but handwriting is poor. He did not take any medicine for ASD till yet. But Recently My son is doing very high volume of Delayed echolalia almost every time at every place. So we are not able to continue specch therapy practice prescribed by Mr. Mainak Santra in home because during study, writing or speech therapy practice he is continuing very high volume of delayed echolalia. Even when Someone is asking him something ,instead of interacting he is doing delayed echolalia. So Mr. Mainak Santra has referred us to consult with Dr. Jai Ranjan Ram wheather any medicine is required to improve his attention because due to lack of attention is speech development is not progressing. I can see many parents in this group consulting Mr. Mainak Santra for speech therapy. Mr. Santra is continuing the Story telling stretegy since last 8 months with my son.But it is not working out for my son due to his lack of attention & interest to practice Story Telling speech therapy in home. I am not sure wheather Delayed Echolalia ,attention deficiency can be cured by medicine or not. we shall consult with Dr. Jai Ranjan Ram in Next October. So can anyone suggest whether they have faced same experience or what I can do in this scenario. Extremely sorry for the long post.
@ 
TBasu
I'm facing the same with my child, who is 4 years and 2 months now, but continuing therapies with Mr. Santra. Echolalia is a positive sign of picking up language. Do not worry, just keep providing him with more informations, as much as you can, even if he doesnt responds. The time frame of each kid to pick up language would be different. Mr. Santra, suggested on the voice recording process of story telling. I've tried that and also narrating stories while showing him pictures and videos. While recording your voice and  narrating a story, make it interesting with props and voice modulation, it helps.I've tried giving Sizodon at very small doses as prescribed by Dr. Ram at very small doses, for a week at a stretch and then stop. But what I feel is keeping my child engaged with various kinds of activities and a lot of outdoor play and exposure helps much better than medicines. And yes, I've also been giving him Cognicare since past 4 months and have seen him pick up and imprve on language. Also there would be phases & stagnancy at times during the journey with your kid, do not worry on that though i know it might be frustrating at time. Just keep being consistent and I'm sure he'll bloom one day!
@Arundati85 : :: Thank you very much for your suggestions. Can you please suggest what is cognicare?? Actually My son is showing agreession like pushing, kicking to other people & children in school ,park,road. In last PTM teachers told somedays he becomes very restless in class throwing objects, small plastic chairs ,push,pull hairs, to friends.. Recentlu he bocomes extrem inattentive & does high volume of delayed echolalia during study & speech therapy practice .Voice recording also Mr. santra suggested me. But My son is not at all responding & lost all interest to any story telling strategies. So Mr. Santra suggested me to consult Dr. Ram. Wheather any medication can calm down agrresive behavior & improves mood , attention. Even Mr. Santra suggeated when we are asking any thing to my son or trying to continuing any discussion, he might be thinking something else, so instead of responding or interacting he is doing delayed echolalia as his mind is somewhere else . He marked " Attention Deficiency " in his last prescription & suggested to consult Dr. Ram for medication. Mr. Santra also told that my son has just completed 5 yrs in September 2018 ,if this story telling thing will not built up, then it will be very difficult to continue social interaction & study in school. I am planning to buy story telling puzzles ,books to continue speech therapy. But not sure how much that will work out.
@TBasu ........ this is almost similar to the case of my son ( 6 yrs ) though he never hits any of his peer group in school but sometimes he hits his mother and have expressed embarrassing level of anger ( but only at home ) . He was also diagnosed with Global Development Delay and is going through various therapies . Ecolalia was also his problem but got faded out with time. But since last one year, as his other cognitive skills have started improving , there is a terrible increase in his boisterousness.  I tried every possible way to have him engaged to calm him down but nothing has worked out . Though he did well in Mr. Santra's class but it requires almost everybody in his chamber to have him seat in front of him including the guys at billing . My son was already visiting Dr. J Ram for some time and was on Risperidone for few months . But on this time he prescribed Atomoxetine ( Attntrol )  10 mg for the next 3 months and we feel situation got 40% better after taking the medicine for around 3 weeks now. I am not at all in favor of such drugs to my son but I explored every other option/suggestion mentioned in this forum and also from few other sources and then compelled to yield to Dr. Ram's prescription which is somehow working now. We didnt observed any side effect as of now neither any kind of dizziness kind of thing . But having said all these ,  I will still suggest you to try every other possible alternatives before going to Dr. Ram.

Would also like to mention couple of more steps though I am not sure whether any one of these are playing the primary role or its a combination of everything . So if you are not already aware of , you can try Tulipian Pre Schools ( main branch at Dover Lane )  which has already created an extremely positive impression to my son after just two weeks of schooling and we never heard any bad feedback of my son especially on the hyper activity . They got a great team of few passionate special educators/teachers and who are taking real care of my son and report us the daily progress very diligently sometimes with photographs taken in class room.  I now can see my son is taking active part in group activities without being too resrtless. They have a specific methodology for the kids with special needs which seems to be working with my son though it is too early of a stage to come to a final conclusion. But the progress is hopeful enough to begin with.

Second things is the usage of essence oil and you should find great details in some recent posts in this thread only . 

But stay positive , these are just bad phases which will definitely get faded away with time and our little champ will rock soon . 









@Kolcb & Sanjub22 : Thank you very much for your such detailed level explanation. I called Mr. Mainak Santra once again and asked whether I shall go to Dr. Debanjan Pan or Dr. Ram. Mr. Santra suggested to check with Dr. Debanjan Pan . @Kolcb : Which doctor prescribed for Cognicare medicine ?? Is this medicine worked for Delayed echolalia in your case ?? Have you also experienced Delayed Echolalia??
@Kolcb : Thank you very much for your detail information. It is really helpful.